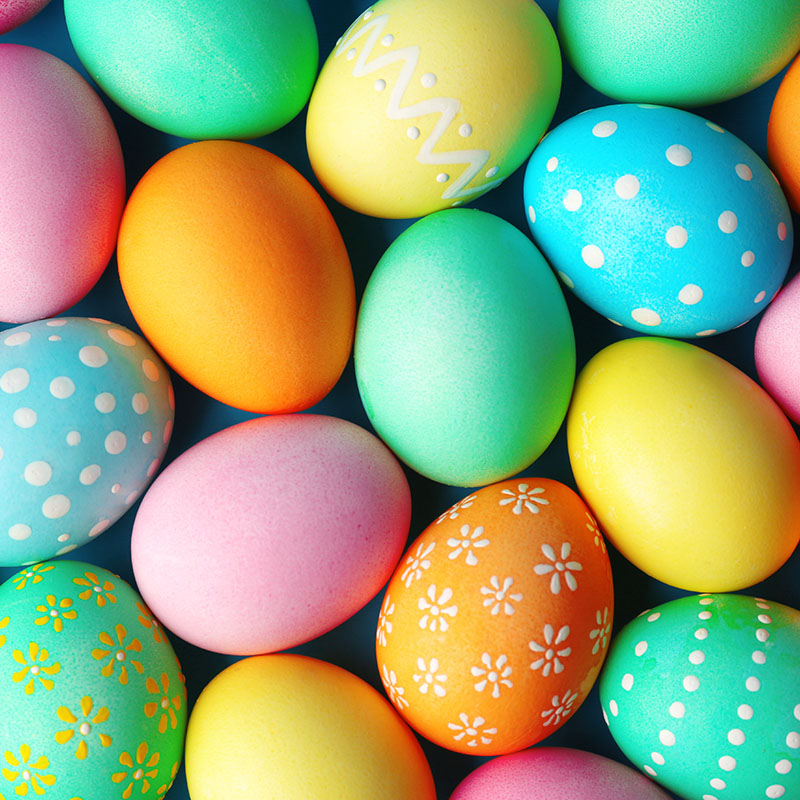 How we surprise you
A REVOLUTIONARY EASTER MENU
Reading time: 4 minutes
Every year when Easter comes around we want to prepare a menu that will make everyone happy, we want to organise an enticing meal that will at the same time surprise with something different. Not an easy task, especially when we inevitably revert to classic meals for traditional occasions.
For instance, how many times have you found yourself serving lamb and devilled eggs?
While still following tradition, you shouldn't feel guilty about changing the usual Easter menu a bit, especially when this can be done in a healthy way that everyone will enjoy. To this end, some "unexpected" ingredients come to our rescue: ready to steal the spotlight from the more famous protagonists, pulses and grains based dishes prove to have hidden talents.
Easter menu: pulses and grains for alternative dishes
Here are some original, tasty and economical recipes that will get you through the appetisers all the way to the second course: pulses and grains, together with other flavourful and healthy ingredients, will make for really delicious alternatives to your menu, while leaving the more traditional and timeless Easter eggs and colomba cakes for dessert. Grab pencil and paper… are you ready to break the rules a little bit?
PUREED PEA SOUP WITH BUCKWHEAT GNOCCHI1,2
An elegant and sophisticated option, pureed pea soup with buckwheat gnocchi can prove to be the perfect way to mix pulses, vegetables and grains in a tasty and enticing way even on festive occasions. Smooth, tasty and creamy, it's an Easter first course that is genuine, colourful and smells of spring.
Let's take a look at how to prepare this recipe!
INGREDIENTS FOR THE PUREED PEA SOUP (for 4 people)
500 g Dalla Buona Terra Pedon peas
1 shallot
Course salt to taste
Hot water as needed
Extra virgin olive oil (EVO) to taste
INGREDIENTS FOR THE BUCKWHEAT GNOCCHI(4 people)
300 g buckwheat flour
150 ml water
Salt to taste
Pepper to taste
30 g Grated Grana Padano Parmesan Cheese
PUREED SOUP PREPARATION
To make pureed pea soup with buckwheat gnocchi, start by preparing the pureed pea soup:
Heat a drizzle of extra virgin olive oil in a pan. Finely chop a shallot and fry it in the pan.
Add the Pedon peas to the pan to heat them up. Add some hot water to the pan and add a pinch of salt.
Allow the peas to cook for about 25 minutes.
When cooked, add the peas to the hand blender container and mix.
Add the peas cooking water to create a smooth, creamy consistency and add a pinch of salt to taste.
Sieve and set the purred pea soup aside.
Now it's time to take care of the buckwheat gnocchi:
Knead the buckwheat flour in a bowl with a little water at a time.
Vigorously knead the dough until it becomes nice and compact.
Let it rest for 30 minutes to reduce elasticity, then roll into small "sausages".
Cut the "sausages" into small pieces thus forming the gnocchi.
Cook the gnocchi in the salted boiling water until they float to the surface.
Once they have risen to the surface, drain and transfer the gnocchi in the pan and mix with the grated parmesan cheese and pepper.
Now spoon the pureed pea soup into a bowl and add the gnocchi on top.
All that remains is for you to serve your delicious pureed pea soup… guaranteed to be a success!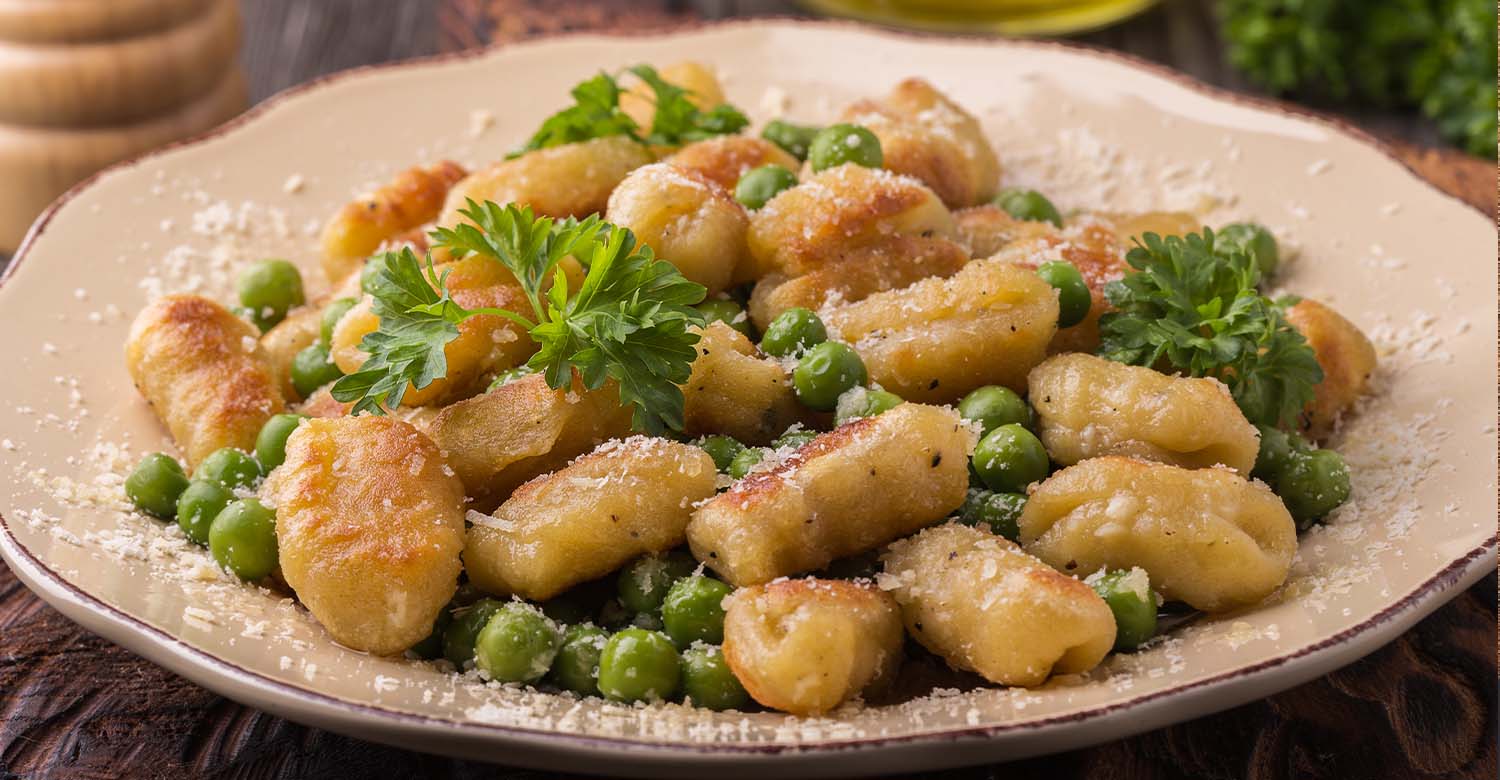 VEGETARIAN MEATLOAF WITH PULSES, GRAINS AND VEGETABLES3
We have already talked about the beneficial effects of combining grains and pulses in a main dish and how lentils can be considered a real goldmine from a nutritional point of view. This time we find them "partying" with chickpeas, vegetables and spelt: the result is a concentrate of good mood and well-being!
From this wonderful combination a very tasty recipe is born, among the tastiest and most surprising second courses for Easter… we are sure that even the most demanding guests who are not keen on a change will appreciate it.
INGREDIENTS (for 4 people)
For the meatloaf
150 g I Salvaminuti Pedon spelt (or wholemeal spelt)
250 g I Pronti Pedon chickpeas (steamed and ready to eat)
300 g I Pronti Pedon lentils (steamed and ready to eat)
100 g breadcrumbs
10 g corn starch
3 potatoes
3 carrots
Parsley
salt, pepper
For the sauce
6 leeks
extra-virgin olive oil
1/2 glass of white wine
50 g heavy cream
salt and pepper
PROCEDURE
Preparing the vegetables
Start by washing and boiling the potatoes and carrots.
Cook the spelt separately for 10 minutes.
When the vegetables are soft add them to the mixer together with the spelt, the cooked chickpeas and lentils and some parsley.
Mix until you reach a roughly chopped consistency.
Dough and cooking
Place the dough in a bowl.
Add the breadcrumbs, the starch, salt and pepper.
Mix the ingredients well to combine all the flavours.
Line a plum-cake tin with parchment paper and pour in the mixture.
Bake at 180 °C for about 40 minutes, let it cool, slice and serve.
Sauce preparation
Wash the leeks and coarsely chop them.
Heat a drizzle of extra virgin olive oil and add the leeks, simmer with the white wine and continue cooking until they are soft (about 30 minutes), adding hot water if needed to avoid burning.
At the end, blend the leeks with the cream, salt and pepper and accompany the meatloaf slices with the freshly prepared sauce, serve with a side of vegetables or baked potatoes if you so wish.
And voilà… the vegetarian meatloaf is ready for your revolutionary Easter menu!
Must-have protagonists of the "subversive" Easter menu, the pulses and grains from our ready-made or quick-cooked range, are the perfect example of our drive for innovation and the desire to reinvent a food linked to tradition in a "new" way that is more in line with current needs and habits. Smart solutions designed for customers who take their well-being seriously and who do not want to give up practicality, versatility and taste, even on special occasions.
Make way for I Pronti range to enjoy: steamed pulses and grains without preservatives and with just a drizzle of extra virgin olive oil to either eat on their own or as a side to more elaborate festive dishes. From the Pulses range delicious on their own (such as Chickpeas, Lentils and Mixed Pulses), Grains (such as Bulgur and Quinoa and 7 Grains), or the Mix range (Lentils and Ancient Grains or Chickpeas and Wholemeal Spelt) or in the most recent Mixes with Vegetables (including Quinoa and Peas with Corn and Carrots) loved for their incredible taste and their generous dose of health and sustainability.
Maximum results with minimum effort even with the I Salvaminuti range, tasty, nutritious and time saving as they are ready to be served in just 10 minutes. From classic grains (such as Spelt and Barley) to Broths and Soups (such as Grains and Lentils) from fun Mixes for Salad (such as those with Bulgur, Quinoa or the Spelt Mix enriched with pumpkin seeds) to creative Alternative Risottos (called this way as they are prepared like a risotto without the rice!) such as Grains and Peas or Millet and Lentils. From the Gluten-Free range (such as Ancient Grains or Corn and Quinoa) to the enriched grains from the Rich In range with Wholemeal Spelt.
Bibliography
"Vellutata di piselli con gnocchetti di patate" — Cookaround.com, Portale di ricette, idee, opinioni di cucina – Source cookaround.com
"Gnocchi di grano saraceno" — Chef in camicia, media sul mondo del food – Source chefincamicia.com
"Polpettone vegano di legumi e verdura" — Vegolosi.it, Magazine di cultura e cucina 100% vegetale – Source vegolosi.it