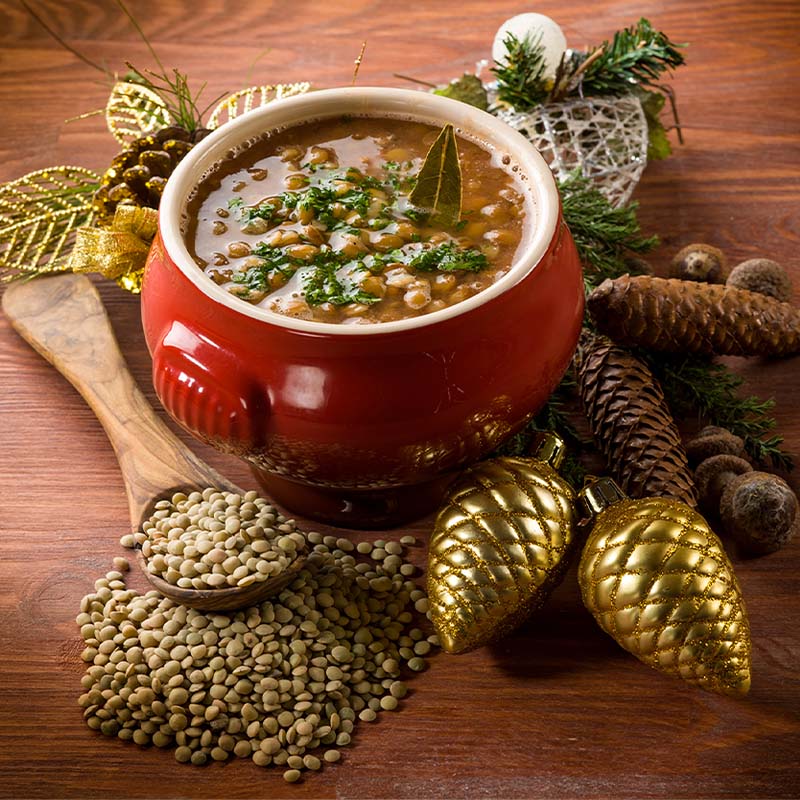 How we win you over every day
The legend of LENTILS
During Christmas and New Year's Eve, lentils are said to bring good luck and, therefore, are the most traditional side dish in Italy. Loved throughout the country, Lentils unite Italians during the festive season, even if recipes differ from region to region.
Traditionally, they should be eaten on New Year's Eve after the midnight toast: the very superstitious believe that, for the magic to work, they must be eaten with your hands!
Lentils: history and tradition
Lentils were one of the first pulses to be consumed as food, dating back to prehistoric times. As with other pulses, they are considered the "poor man's meat" due to their high protein content. They are even mentioned in the Bible ― in Genesis it is said that Esau gave up his first-born daughter in exchange for a plate of lentils ― and in the Middle Ages, they were considered a complete meal.
BUT WHY ARE LENTILS SAID TO BRING GOOD LUCK?
The romans ate lentils on New Year's Eve as a good omen for the future. A coin pouch, a leather bag worn around the belt, filled with lentils was typically gifted in order to bring good luck in the new year, the hope was that they would turn into jangling coins. A symbolic value attributable not only to the fact that their lens shape (from which their name derives) resembles a coin, but also to their nutritional value. Rich in proteins, iron, mineral salts and B vitamins, lentils were considered a real treasure: thanks to the coin purse, even the less fortunate received some very precious food.
How to cook lentils: the best recipes
As an alternative to the more traditional dishes, here are some sure-fire recipes for New Year's Eve lentils, combining taste, health and creativity.
LENTIL MEAT(LESS)BALLS1
Not just a New Year's Eve side dish! Try this recipe for turning lentils into a tasty second course that everyone will love.
INGREDIENTS (FOR 4 PEOPLE)
For the meat(less)balls
500 g of ready cooked lentils from the Pedon I Pronti range;
1 small potato;
50 g stale bread crumb;
2 tablespoons grated dry bread;
2 tablespoons parmesan cheese;
1 egg;
parsley;
salt and pepper.
For the breading
2 eggs;
grated dry bread.
For cooking
Extra virgin olive oil or high oleic sunflower oil
PREPARATION
Boil the potato, crush it with a fork and add it to the ready-made lentils. After combining the bread crumb, the egg and all the other ingredients, knead well making sure the mixture is not too damp and then form into balls.
The lentil meat(less)balls can be oven baked or, for a more festive and indulgent meal, fried.  If you prefer to bake them in the oven, just lightly grease a sheet of baking paper with olive oil and cook them at 180 degrees for 25 minutes. If you choose to fry them, place them in the fridge for about half an hour so that they harden a little, then take them out, bread them and fry them in a generous amount of sunflower oil or extra virgin olive oil.
No matter how you cook them… they will be delicious!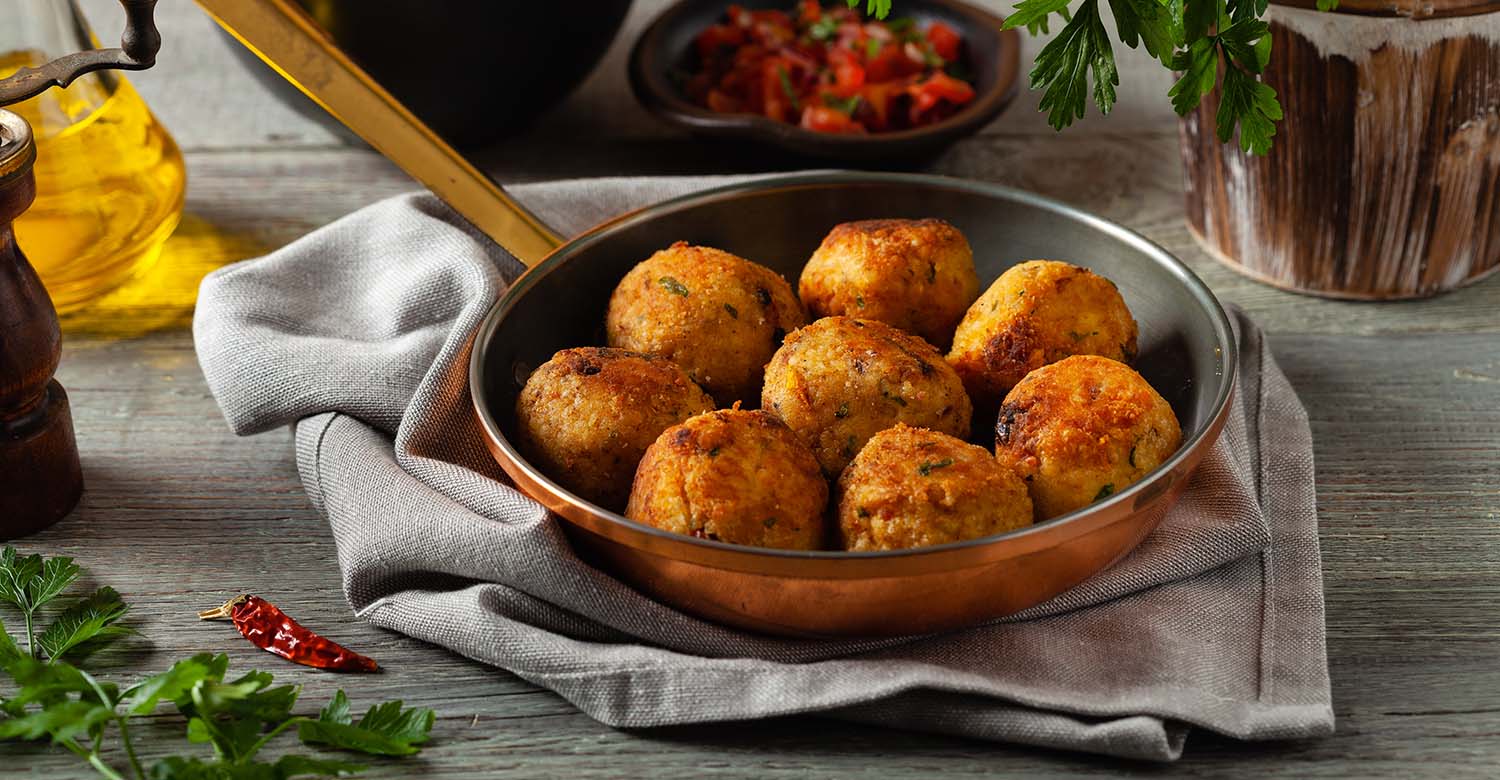 Would you like to bring a different lentil dish to the table that is both healthy and super tasty? Warm up the atmosphere with our lentil, potato and mushroom pie, or surprise your guests with some delicious lentils and ancient grains with salmon and avocado.
If all we can do is hope for wealth and good fortune on New Year's Eve while eating lentils… we can be certain that our Pedina lentils will bring luck to those who need it the most. These special, top-grade lentils are filled with nutritional properties superior to the common lentil. Not only do they hold up exceptionally well during cooking, but the sale of our Pedina lentils also supports Banco Alimentare, a food bank that has been helping families in need by collecting food surpluses for more than 30 years. This product works toward our social responsibility goals that are not only good for others but also for the environment: the packaging is obtained from waste from the pulse production process and is 100% recyclable.
Do you want another reason to eat lentils? All this is offered to you on a silver platter by Pedon: among the absolute protagonists in the pulse segment, our Lentils from the I Pronti range are ready to be served at your table without the need for cooking, saving you time and effort. They are steamed in a natural way and contain no preservatives, seasoned with just a drizzle of olive oil, thus maintaining all their nutritional properties. A tasty option eaten either on their own or as a practical addition to more elaborate recipes, perfectly suited to the practical needs of our fast-paced lives.
Bibliography
"Lenticchie a Capodanno: ricette", Curenaturali.it –  Margherita Russo redattrice specializzata nella gestione di contenuti per la medicina – Source cure-naturali.it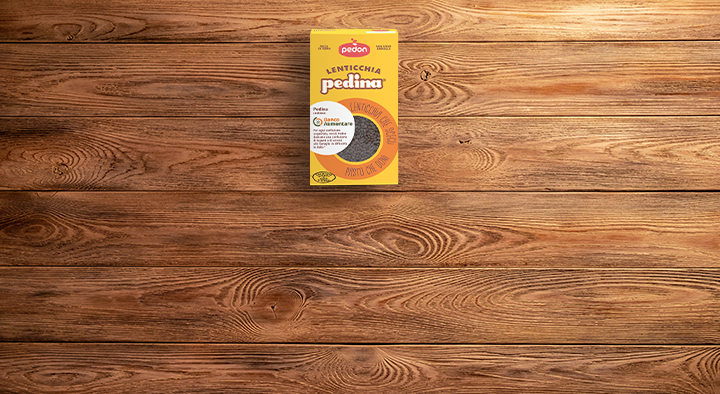 A practical, nutritious, quality dish: they are good for health, the environment and needy people.
Come find out more!