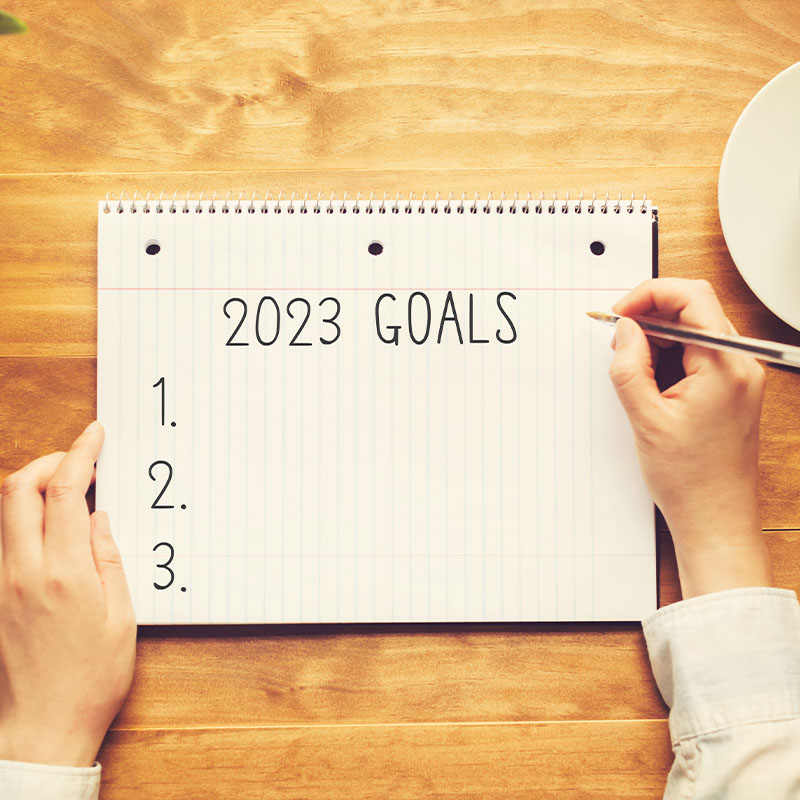 How we surprise you
STARTING over: back in shape AFTER THE HOLIDAYS
We love to make new year's resolutions during the first days of the year, the perfect time to start new projects and plans, and to reset everything and get back to "where we were".
And if January offers us the energy and motivation needed to give us the right boost to get going, why not start from a healthy and balanced diet together with consistent physical activity?
After Christmas and its indulgences, all we have to do is find the right motivation to gradually get back to the healthy and flexible diet that we aspire to. Let's then start from a food plan that allows us to eliminate the excess toxins caused by pre-Christmas aperitifs, panettones, champagne and lavish lunches in favour of balanced and correct habits, for a real lifestyle change.
How to get back in shape after the holidays
According to experts, there are some daily things that you should always do if you want to get back on track in January.1
Among these:
do sports, preferably aerobic-type activities, such as slow running, cycling, going for walks, cross-country skiing etc.);
get rid of excess toxins by reducing your intake of alcohol and food conservatives;
try relaxing with a steam bath or sauna;
limit, where possible, stressful situations.
When it comes to diet, here is what nutritionists suggest to get back into shape in a right and sustainable way2:
No to fasting and punitive diets: it is better to indulge occasionally and then get back to your regular diet;
Don't drastically reduce the amount of food: just don't overdo it with the portions and choose quality and variety at the table;
Limit eating out;
Always choose seasonal products: thanks to their nutritional properties, they are the most suitable foods to face the cold winter months;
Choose simple, satisfying, healthy, tasty and colourful dishes: food must be our ally, not our enemy!
What to eat after the holidays
Here are a couple tasty and super healthy recipes that will allow us to "get back in line" without regretting Christmas indulgences too much.
SPELT, CABBAGE AND POTATO SOUP3
Fragrant, detoxifying and welcoming: an ideal first course to fight the cold without weighing yourself down. Here's how to prepare it.
Preparation time: 1h
Ingredients (4 portions)
250 g cleaned cabbage
250 g potatoes
200 g Pedon Spelt from the C'è di buono in Italia range
1 piece of carrot
1 piece of celery
1 piece of onion
Vegetable broth
Extra-virgin olive oil
Bay leaf
Salt
Pepper
Procedure
Chop the onion, celery and carrot and fry in a saucepan with 2 tablespoons of oil for a few minutes. Add the Pedon Spelt and let it flavour for a few moments in the frying pan, then sprinkle with a litre of hot broth, cover and continue cooking for about 25 minutes, stirring occasionally.
Dice the potatoes and chop the cabbage, then add them to the other ingredients.
Add some cooking broth together with a bay leaf and cook for another 15 minutes; season with salt. Turn off and let the soup cool.
Just top it off with a drizzle of olive oil and a sprinkle of black pepper and your super comforting soup is ready to be served!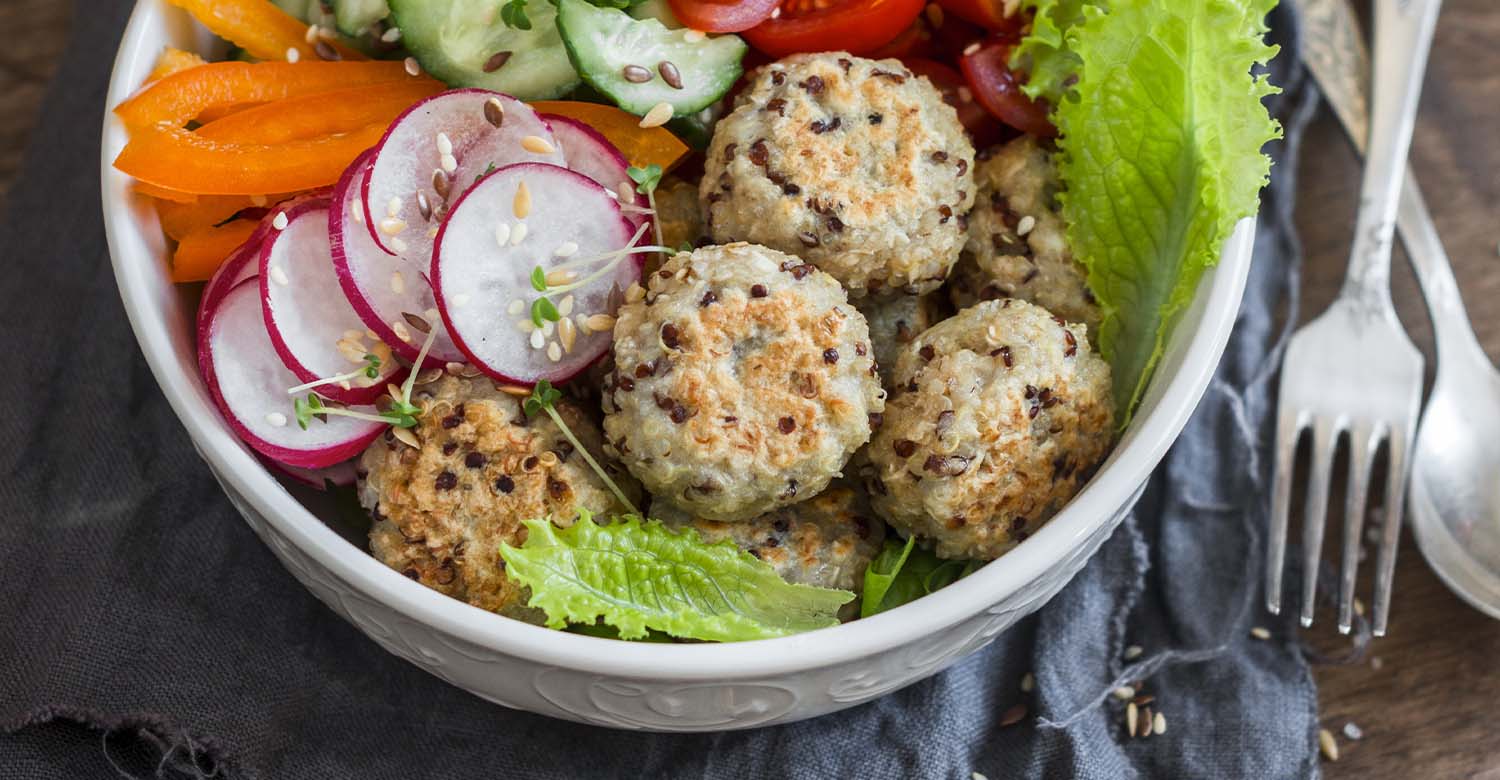 QUINOA MEATBALLS WITH CAULIFLOWERS AND RADICCHIO
A tantalizing, healthy and appetizing second course, quinoa meatballs with cauliflower and radicchio are made with quinoa, which is high in protein – an ingredient chosen by NASA as the ideal food for astronauts. A seasonal recipe that is also perfect to get back in shape here on "earth".
Difficulty: easy
Preparation time: 20 minutes + resting time
Cooking time: 30 minutes
Ingredients:
200 g Pedon White Quinoa from the Dalla Buona Terra range
200 g cauliflower
1 head of radicchio
1 shallot
40 g grated Parmesan cheese
2 eggs
Extra virgin olive oil to taste
salt to taste
Preparation
First, clean the cauliflower, cut it into small pieces and steam for 10 minutes. Peel and finely chop the shallot and simmer with 2 tablespoons of oil and one of water. Combine the radicchio cleaned and cut into strips, add salt, stir and cook over a high flame until all the water has evaporated. Let it cool and mix it with the cauliflower previously crushed with a fork.
Rinse the Pedon White Quinoa well, transfer it to a saucepan with 600 ml of water and cook until the water is absorbed (about 20 minutes).
Let cool and combine the eggs, parmesan and vegetable mix.
Form meatballs with wet hands, let them rest half an hour in the fridge and then brown in the oven at 180° for about 15 minutes.
Your delicious quinoa meatballs with cauliflower and radicchio are now ready for the table!
Our new range dedicated to traditionally cooked pulses, grains and seeds now has a new look and is the perfect ally to "start over" with some healthy resolutions. Dalla Buona Terra offers products that stand out for their tradition, careful selection of raw materials and strong bond with the land.
A line that is divided into 5 segments: La Tradizione, with 30 varieties of pulses and grains that are traditionally cooked and suitable for any type of dish (among which you'll find White Quinoa, Spelt, Red Lentils), I Biologici, organic pulses and grains in packs of 500 g (such as Organic Pearled Barley and Mix of Organic Pulses and Grains), L'Italia Tipica, with exquisite typical dishes from various regions of Italy (including Lentils from the Sibillini Mountains, Chickpeas from Murgia, Barley from Alta Tuscia),
I Semi, with 10 types of delicious seeds to prepare bread, focaccia, cakes and breadsticks (including Sunflower Seeds, Flax Seeds, Pumpkin Seeds), I Senza Glutine, high-quality grains and pulses that are naturally gluten-free in 100% recyclable paper packaging (such as Mixed Pulses and Pop Corn Kernels).
Bibliography
"In forma dopo le Feste" My PersonalTrainer.it – Redazione di professionisti in ambito medico e chimico-farmaceutico, Source my-personaltrainer.it
"Tornare in forma dopo le feste natalizie, senza diete drastiche e digiuni: cinque consigli utili" – Nonsprecare.it – Dott.ssa Sara Campolonghi Psicologa e Coach alimentare, Source nonsprecare.it
Minestra di farro, verza e patate, La cucina italiana – Magazine di cucina, Source lacucinaitaliana.it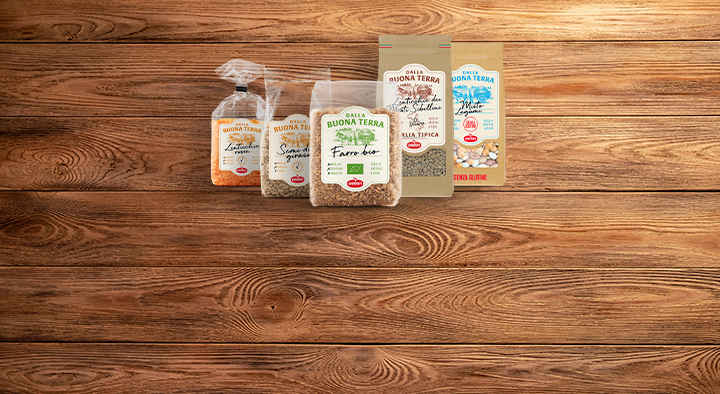 Conventional or biological, gluten-free or typically Italian. Exceptional raw materials, all to be savoured: they are good and healthy
Find them here!