How we surprise you
PUMPKIN, the queen of Autumn
Cheerful, healthy and low in calories, the pumpkin is a symbol of Autumn and Halloween, but it is also a vegetable with numerous nutritional properties and unexpected culinary potential.
The Pumpkin is one of the most versatile ingredients around and it was a staple in the diet of the Gonzaga family as well as being used to fill tortellacci prepared for members of the Este family. It then reached kitchens everywhere and is now used to make bread, focacce, frittelle, sweet and savoury cakes as well as to accompany soups, risottos and tortelli.
Nutritional properties of Pumpkins
The Pumpkin is part of the Cucurbitaceae family, it is grown in many varieties and is harvested between September and November.
Its sweet and enveloping flavour can be savoured regularly when in season. It is low in calories (just 18 kcal for 100 grams) and is dense with nutrients and properties that make it a real elixir for health.
Here are the main benefits and properties of pumpkins1:
It protects the heart thanks to its many vitamins and antioxidants. The high content of good Omega 3 fatty acids keep cholesterol down;
It stimulates the urinary tracts thanks to the antiparasitic and purifying properties of cucurbitin, its most important active ingredient;
It is good for and protects your eyes thanks to the presence of beta-carotene (a precursor of vitamin A), a substance that also strengthens the immune system;
It is good for your mood thanks to tryptophan (a substance necessary for the synthesis of serotonin, the so-called happy hormone) and its revitalizing orange colour.
It nourishes the skin, hair and nails: a precious ally in self-made beauty rituals, its pulp can be used in face and hair masks and creams that strengthen nails and soothe the skin.
In addition to the pulp, pumpkin seeds, rich in "good" unsaturated fats, vitamins and minerals, are also a source of essential nutrients for the body. According to a recent scientific study by the Iranian University of Wasit, eating them raw and as an oil also helps to safeguard against prostate problems, thanks to their content of cucurbitin.
The best pumpkin recipes with pulses and grains
From the Mantuan pumpkin to the Delica pumpkin, from the yellow squash to the Berretta piacentina gourd, from the butternut to the Piena della Sicilia, all varieties are light, tasty and worthy of ending up on our tables.
Here are some delicious pumpkin recipes to serve together with our pulses and grains to turn them into even tastier and more varied meals.
Pumpkin and spelt salad
Preparation time: 10 minutes – Recipe difficulty: easy
Ingredients for 4 people:
320 g C'è di Buono in Italia Spelt by Pedon
1⁄2 pumpkin
4 tablespoons of extra virgin olive oil
1 clove of garlic
1 sprig of rosemary
Soy milk and salt to taste
PREPARATION
Prepare the C'è di Buono in Italia Spelt by Pedon in a generous amount of salted boiling water, peel the pumpkin, remove the seeds and dice it. Mince the peeled garlic and brown in a saucepan with oil and rosemary.
Add the diced pumpkin to the saucepan, add a bit of soy milk and cook until tender.
When it is almost done, add the boiled spelt to the pumpkin, mix well and finish cooking.
Now just plate up, serve and enjoy!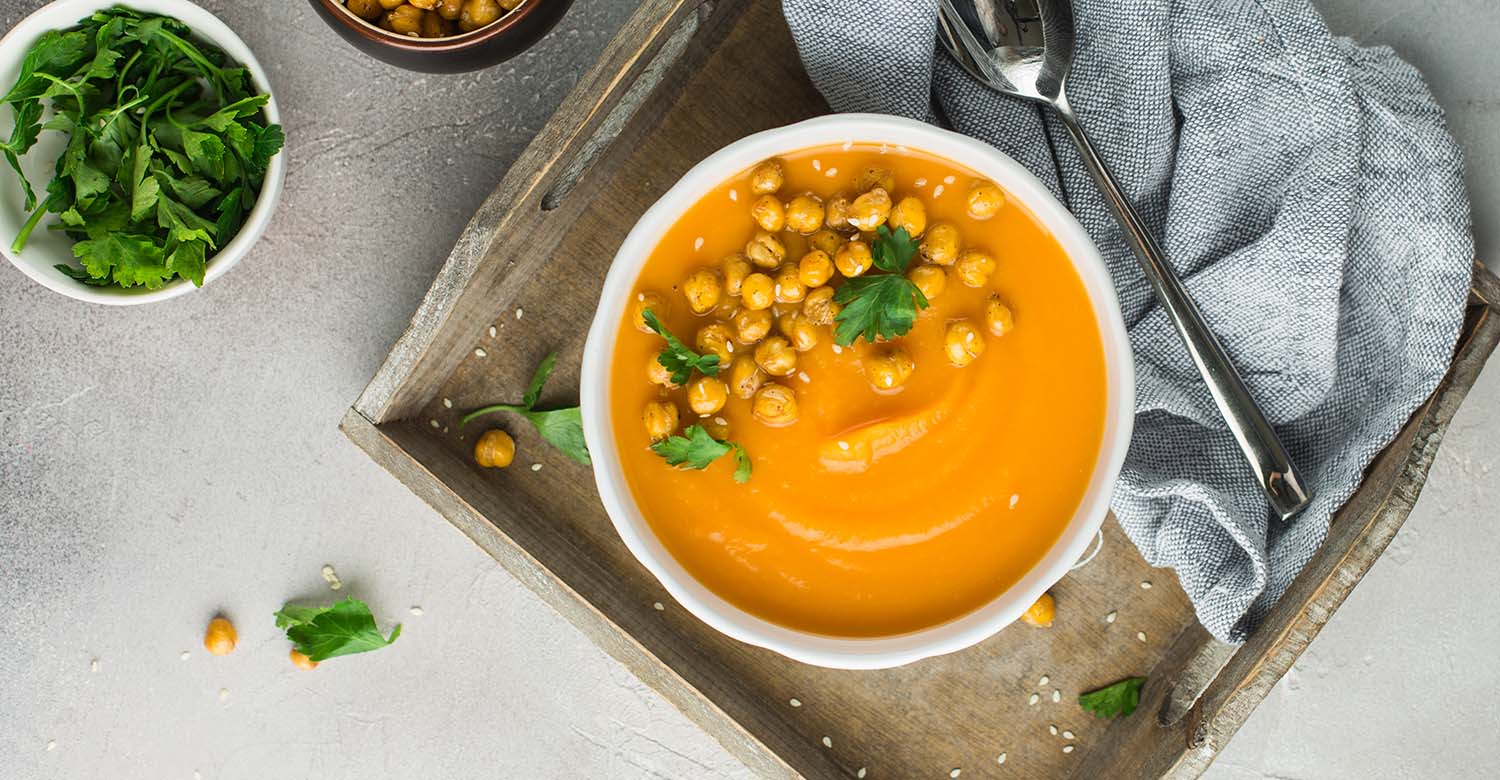 Grain and lentil soup with broccoli and pumpkin curry
When the temperature drop and all you want to do is wind down after a long day away from home, try our original and super healthy grain, lentils and pumpkin curry recipe. Find out more!
Cream of pumpkin and lentils
Time: 15 minutes – Recipe difficulty: easy
Ingredients for 3 people:
1 packet of ready cooked lentils from our I Pronti range
300 g peeled pumpkin
100 g peeled tomatoes
4 tablespoons of olive oil
1 small onion
Parsley, salt and pepper to taste
PREPARATION
Finely chop the onion and brown in the oil for a few minutes, add the peeled tomatoes, salt and pepper and cook for about 5 minutes.
Add the diced pumpkin and continue to cook over low heat for 10 minutes.
Add the lentils from the I Pronti range and top with chopped parsley.
We at Pedon aim to combine availability, versatility and flavour for food solutions with satisfying and conscious well-being in mind. We could not resist the sweetness and versatility of the most cheerful, colourful and healthy autumn vegetable that enhances the flavour of our pulses and grains, not to mention the nutritional properties of its precious seeds.
We have come up with a spelt mix of pumpkin seeds in our Mix for salads for our I Salvaminuti range. They take just 10 minutes to cook and are perfect  when you are short on time. Our Salvaminuti products guarantee a quick, varied and nourishing grain or grain and pulse meal, for all your fibre and protein needs.
We have doubled up with our chickpeas, edamame, pumpkin and sunflower seeds mix and our chickpeas, lentils, pumpkin seeds and cranberries mix from our Legumes made as snacks range.
This innovative and extremely tasty range is the perfect example of a smart evolution when it comes to consuming pulses and seeds while maintaining their well-known nutritional properties.
Bibliography
"Zucca, proprietà, benefici e calorie"- Riza.it, Portale dell'Istituto Riza di Medicina Psicosomatica, Source riza.it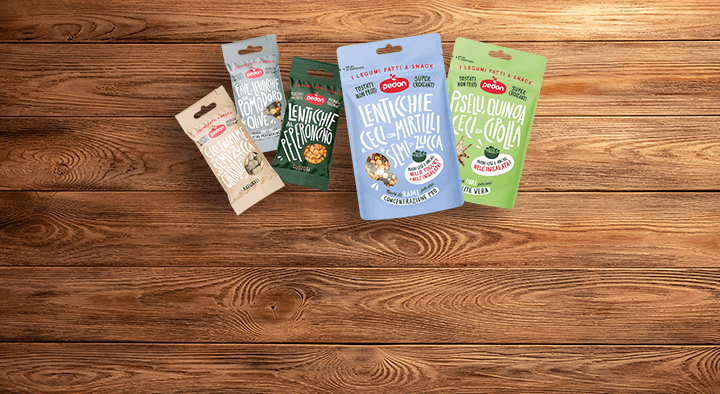 Fun, practical, super nutritious. To consume at school, at the gym, at work.
Discover them all!