How we surprise you
Hosting someone from the CABBAGE FAMILY in February
Not all family members are loud, inappropriate and to be avoided. In fact, there are some that are very pleasant to meet, especially at the table. We are talking about the cruciferous vegetable family (or cruciferae or brassicaceae), a vegetable that distinguishes itself thanks to its four petal flowers which resemble a cross, from which its name derives.
Among the most loved cruciferous vegetables are cauliflowers, cabbages, Brussels sprouts and broccoli: since they are winter vegetables, February is the ideal month to add them to delicious recipes that bring out the best they have to offer.
Cruciferae, a "family full of health"
With their reduced calories, cruciferous vegetables are very satiating thanks to the large amount of water and fibre they contain. They have an intense smell that is not always pleasant due to the sulphur molecules contained in their sulforaphane, they help improve intestinal functions by modulating the glycemic response to the meal. They are full of vitamins (C, K, Folic Acid and Beta-carotene) and minerals (calcium, magnesium, phosphorus and potassium) giving them antioxidant and anti-inflammatory properties that strengthen the immune system, improve mood and counteract fatigue.1
How to add cruciferous vegetables to your meals
Various ingredients can accompany broccoli, turnip greens and cauliflowers in order to bring out their flavour and make for balanced and healthy meals. Among these, grains and pulses are ideal with this type of vegetable: they add the right energy intake and make for heart-warming winter dishes that will please even the most refined palates.
Recipes with grains, pulses and cruciferous vegetables
Here are a couple of tasty and delicious recipes based on cruciferous vegetables, grains and pulses to "take refuge" in the winter evenings: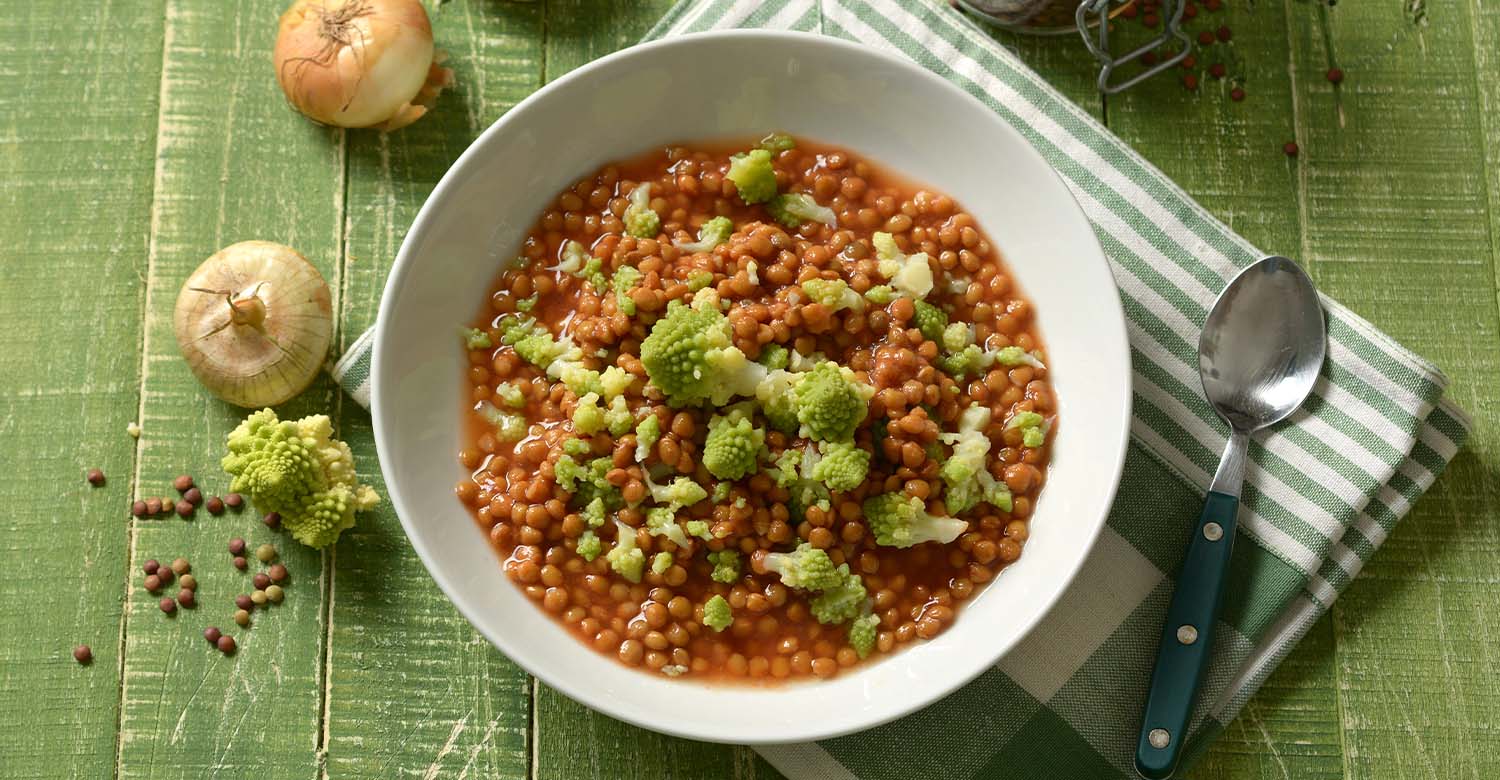 DAHL OF LENTILS AND BRUSSELS SPROUTS2
Do you want the recipe of a vegetarian dish that is quick and simple to prepare?
A variant of the popular cauliflower and lentils dish, here is a Dahl of red lentils and tomatoes enriched with Brussels sprouts, sautéed cheese cubes and sour cream that even omnivores will love, for the approval of everyone at the table.
Ingredients for 4 people:

2 cloves of garlic
1 shallot
4 tablespoons olive oil
300 g Pedon Dalla Buona Terra red lentils
1 litre of vegetable broth
400 g peeled and chopped tomatoes
salt
pepper
200 g Brussels sprouts
200 g roasted cheese, e.g. paneer
180 g low fat sour cream
Preparation
Chop the garlic and shallots and fry them in half the oil.
Add the Pedon lentils and fry them a little.
Add the broth, incorporate the peeled tomatoes, "cover" and let simmer for about 20 minutes, add salt and pepper to taste
In the meantime, boil the Brussels sprouts in salted water for about 10 minutes, drain them, let them cool a little and cut them into strips.
Cut the cheese into cubes and sauté on all sides in the remaining oil.
Garnish your Dahl with Brussels sprouts, cheese and cream, it is now ready to be served and devoured.
Looking for a seasonal comfort food based on cruciferous vegetables that is filling yet light, colourful and healthy? Try our Grain and lentils soup with broccoli and pumpkin curry: fill up on goodness and well-being!
Together with our popular and most loved quick-cook Pedon grains and pulses, you'll find our delicious pumpkin and broccoli soup I Salvaminuti. A product created as a smart solution to bring availability, versatility and taste together, they are ideal when time is scarce, since they cook in just 10 minutes. For a fast, varied and nutritious meal that takes into account the benefits offered by the combination of grains and pulses in a single dish: delicious on its own or with the addition of healthy seasonal vegetables. Among our mix for Broths and Soups, you'll also find the original versatile and tasty Classici range (among which you'll find Spelt and Mediterranean Cous Cous), the Rich In range (like Wholewheat Spelt and Beta-glucan Barley), the fun Mix for Salads salad mixes (like Bulgur and Quinoa), the Alternative Risottos, that don't contain rice (e.g. Grains and Peas with Sesame Seeds and Millet and Lentils with Flaxseeds) and the Gluten-free range (among which you'll find Corn Cous Cous and ancient Grains).
Bibliography
"Tutti i benefici delle crucifere" Metodo Ongaro – Filippo Ongaro Medico degli astronauti, autore Bestseller, ideatore del Metodo Ongaro®, Source metodo-ongaro.com
"Dal di lenticchie e cavoletti di Bruxelles" Mi Gusto, portale di cucina personalizzato della Migros – Daniel Tinembart cuoco diplomato, Source migusto.migros.ch