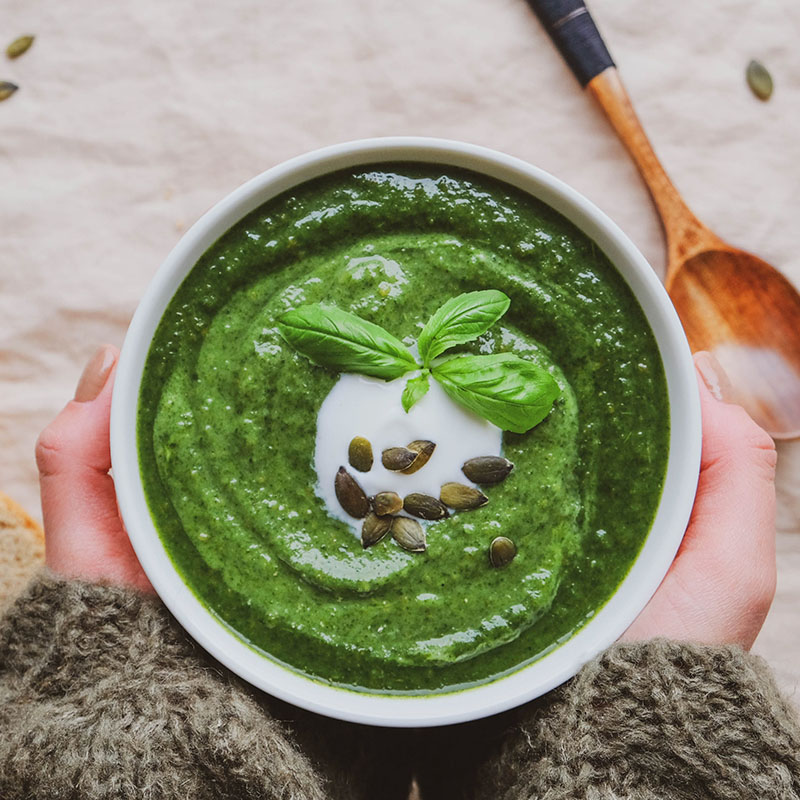 How we surprise you
Power to SOUPS!
Autumn is not only "the desperate end of summer", but a season that can be very enjoyable. Don't let the first rains and the shorter days get you down. This is the time of year when nature surprises us with its warm and reassuring colours, the warmth of our homes is intimate, it allows for reflection, while the first woolly jumpers give us a sense of comfort and protection.
This is the season when we want to warm up with flavourful, colourful and hot meals that are healthy and tasty… it's time to bring out minestrone, vegetable and pureed soups!
Soups: the ideal comfort food of the season
Soups were traditionally considered "poor dishes". The name comes from the Gothic word "suppa" which means "a slice of dipped bread"1, but soups have been around for centuries in the Italian diet, both the traditional versions as well as minestrone and pureed soups. What was once a poor dish is now one of our most loved foods enriched with new flavour and delicious goodness.
Steaming and fragrant, today, soups are seasonal heart-warming meals that are made in many different ways and are filled with nutritional properties. These benefits increase when adding vegetables, pulses and grains, thus creating a dish that is 100% healthy and able to rebalance and purify the body.
Essential when we are short on time, they can be prepared ahead of time and kept in the fridge until needed. There is no better way to warm the body and soothe the spirit when we come home from a cold and busy day.
The nutritional benefits of soups
Soups, minestrone and pureed soups adapt to all nutritional needs thanks to the nutritional value that they have depending on what they have been made with and the wide array of ingredients with which they have been prepared.
Let's then take a look at the main benefits of soups and how we can prepare the perfect soup by making the most of its nutritional properties.2
SOUP WITH ONLY VEGETABLES
Blended or cut into small pieces, the vegetables in the soup hydrate our body with water and mineral salts, making for a light and low-calorie dish, ideal as an entrée to our main meal. Vegetable soups are rich in fibre, thus ensuring healthy bowel movements.
SOUP WITH GRAINS AND VEGETABLES
Warm, nutritious and filling, mixed grain soups provide us with the right amount of energy thanks to the presence of the complex carbohydrates they contain, nutrients that should make up 50-55% of our total daily energy needs. When whole grains are used, our fibre intake is increased, thus lowering blood glucose and helping prevent cardiovascular diseases.3
SOUP WITH PULSES, GRAINS AND VEGETABLES
A triumph of nutrients is guaranteed by the union of lentils, chickpeas, peas or beans in an already rich soup of grains and vegetables. Pulses are rich in plant proteins and healthy fats and they are a goldmine when it comes to minerals (such as iron, calcium, copper and zinc). They will add a magic touch to our autumnal soups. 4-5 servings a week are recommended, so don't hesitate to add this delicious and complete meal to your family's diet.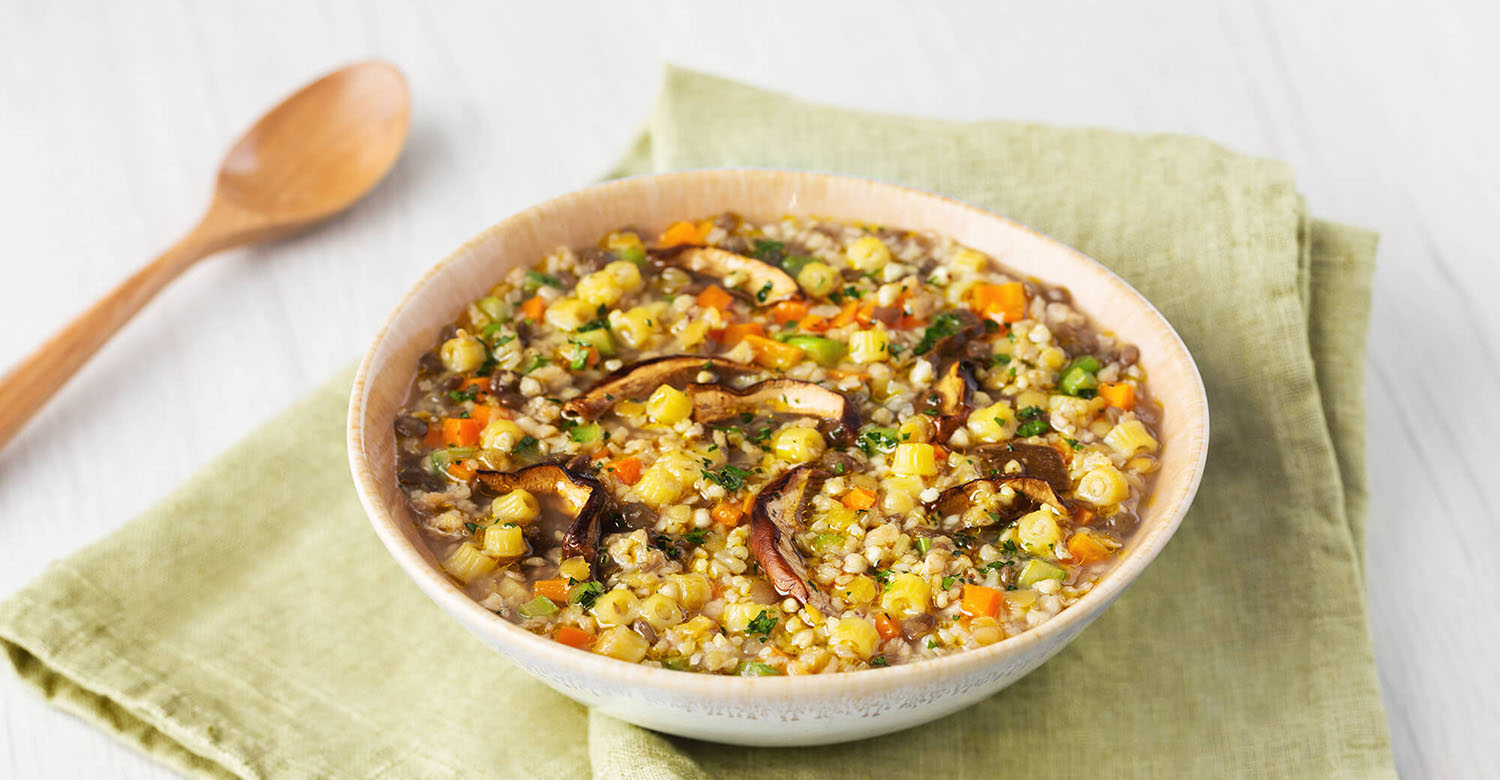 Would you like some ideas on how to cook pulse and grain soups?
Check out our delicious and inventive recipes for Minestrone alla montanara (Mountain-style minestrone) and Lentils and grains soup with red broccoli and red pumpkin with curry.
In line with our vision when it comes to pulses and grains, we at Pedon have decided to add more options that are practical, wholesome and tasty with our le Zuppe line within our I pronti range. Our bean soup with pasta and our pulse soup with grains are two options that reinterpret classic pulse and grain recipes in an inventive and surprising way. Healthy and tasty options that are ideal for a fast, balanced and nutritious meal as they are steamed with 100% natural ingredients and contain no preservatives. Very practical thanks to the single portion packaging: open, microwave, and eat in just 2 minutes!
Bibliography
Treccani – Istituto della Enciclopedia Italiana, Source treccani.it
Zuppe, minestroni e vellutate: tante varianti del comfort food ideale per riscaldarsi nelle fredde serate autunnali, Sorgente Natura magazine – Dott.ssa Silvia Conti Nutrizionista specializzata in nutrizione vegetariana, Source sorgentenatura.it
Linee guida per una sana alimentazione 2018, Crea – Consiglio per la Ricerca in Agricoltura e l'analisi dell'Economia Agraria del Ministero delle politiche agricole, alimentari e forestali, Source crea.gov.it